Flat Twine®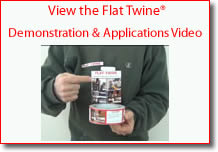 Crafters love Flat Twine®!

Check out this review
from CraftHaul.com
Application 111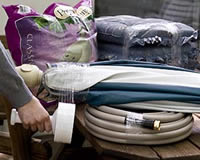 SPRING IS HERE!
Winter was cold and messy throughout most of the U.S. this year.
Let's start looking forward to Spring – and all the clean-up that it requires.
Branches down, plants fallen over, winter sports and work equipment all over, winter clothes and blankets to pack and store – lots of bulky and multiple items to pack up, store, recycle, and move
Let
Flat Twine®
be your bundling, wrapping, tying, and compacting tool of choice
Easy to apply, easy to remove, tight and secure hold – no mess, no fuss,
no sticky residue
---
Check out all the great
clean up applications
for
Flat Twine®
plus use it to close and hold those messy bags of bird and grass seed.
Also check out these great applications:
Moving & Storage
Sports & Recreation
Camping