SOLUTION


Working on a craft or
woodworking project?
Need a vise or clamp to hold it together?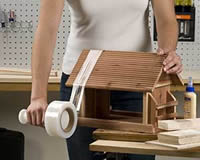 Use Flat Twine to hold the project together while the glue dries.
Easy to apply, easy to remove.
No adhesive residue, no surface marring.
It can be any size you need and be applied in any direction.
Available at leading hardware stores nationwide.
---
NIFTY Hand Tear Tape


SERRATED EDGE – tear by hand – no knife, no scissors, no dispenser
THICK – 3.2 mil as opposed to 1.7 – makes it stronger and easier to find the end
STRONG ADHESIVE – holds tight, doesn't let go, doesn't deteriorate
USE INDOOR or OUTDOOR
with same success