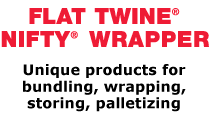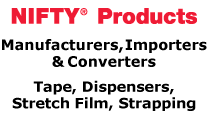 All products feature a unique handle system, industrial grade film, no sticky adhesive residue
(sticks only to itself), and can be used for moving, storage, organizing, palletizing applications.

Flat Twine is the most versatile and easy for anyone to use.
Nifty Wrapper is more robust and better for the DIYer, contractor, and bigger jobs.
Flat Twine® and Nifty® Wrapper Comparison Guide
Try a roll or two today
Available at Ace, Do It Best, True Value, Orgill, and Hobby Lobby stores nationwide.
Nifty Wrapper
Momma Bear

ST51
5" x 1000'
Beefy roll for larger jobs and holding multiple items in a tight hold.
Heavier roll with more film
on every roll.
Nifty Wrapper
Papa Bear

ST72
20" x 1000'
For the big jobs!
When you need to cover
a large area fast.
Dual handle system for better control.
©2012 Nifty Products, 4 Jocama Boulevard, Old Bridge, NJ 08857. All Rights Reserved.
Website design by

Flat Twine® and Nifty® Wrapper are like The Three Bears
Which product is right for my application?