Nifty Pallet Wrap System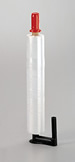 FNW20
The most important part of pallet wrapping is a tight, secure hold.
Best way to get the best hold?
Wrapping down to the bottom of the pallet ensuring that the product and pallet are wrapped together.
Nifty Pallet Wrap (FNW20) features:
A single extended core roll and a handle system (one black u-shaped handle and one orange grip per case) making it easier to wrap to the
bottom of the pallet than using
dual extended core product –
And, at a comparable price!!
Check out all of our
stretch film alternatives –
something for your every need.
---